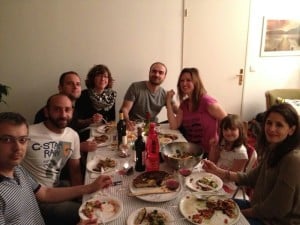 I also spent 6 months teaching English in Lyon, Rhône-Alpes, in order to improve my French, however this turned out to be counter productive as most of my friends there were Italian, so during the day I taught English and in the evenings I spoke and listened to Italian. I have to admit though, that all my Italian friends, are fluent in French so this is a problem they don't have.
Nevertheless, I was able to make a new French friend on my arrival through couchsurf, a website that allows people to crash on someone's couch for free. Camille is a social worker in Lyon and she turned out to be a very friendly and generous host. I later repaid her generosity in order to thank her for being such a great help. I only had to stay one night at her apartment, but the next day she even helped me to carry my luggage to my new flat.
We also became friends and are still in touch to this day. I hope to be able to show her the sights & sounds of Valencia one day as well. Lyon is one of my favourite cities which I have visited and worked in. I like its size and also its style and geography. There are two rivers which cut through it, the Saone and the Rhône. On the side of the Saone, there is a beautiful street market which opens almost every day; it sells some of the tastiest food and ingredients France has to offer. It is almost impossible to walk through it without your mouth watering. My friend often goes there to buy fresh ingredients to cook at home as she is a wonderful cook and baker.
In addition to my French friend I also received some very warm and welcoming company from a group of Italians who I also remain friends with and hope to be host to at some point in the near future.
Lyon was also home to Antoine de Saint-Exupèry who was the author of my favourite book "Le Petit Prince" and that of hundreds of millions of other people around the world. In fact, its airport is named after him. I hope to return sometime to visit my friends and taste some of those delicacies which I missed the first time round.
So if you wish to discuss your travels with me, then I look forward to seeing you at Clases de Inglés en Valencia.