A year and a half ago, I took up knitting in order to do something creative apart from simply working to pay bills. My original intention was to take up carpentry; however at the time of that idea, I was living in France, Lyon and my French wasn't hot enough so as to follow technical instructions in French. After my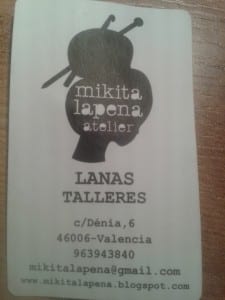 initial 6 months in France, I tucked tail and returned to England, only to find similar hurdles in as far as timetable incompatibility. I have to confess that the British climate and indoor lifestyle was also not very encouraging.
So I decided to return to Spain and take up something a bit more accessible. This something turned out to be knitting; I had been given a little taster thanks to an ex-colleague in Valencia. I found a friendly knitting circle of grandmothers in Barcelona, near the Maragall metro stop who reminded me how to cast on and do the basic knit stitch. This led me to knit a cardigan for a friend and another 14 items since then for other friends in both France and Spain. I have since continued with my hobby, making gifts which have brought a smile to the faces of close knit friends, no pun intended! 😉
If you wish to take up knitting in Valencia, I can recommend a little shop called "Mikita Lapena" on Calle Denia 6, where the couple who run it will show you the basics if you are a beginner and even more advanced knitting skills.